Prince Kum'a Ndumbe III & Usha Ziegelmayer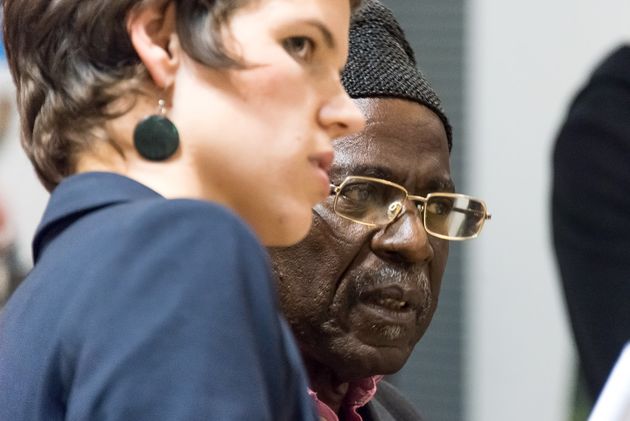 AfricAvenir International
AfricAvenir International is a pan-africanist non-governmental and non-profit organisation founded in Cameroon, engaging in political education and information dissemination both in Africa and in the world. Founded by Prince Kum' a Ndumbe III in 1985, it expanded its reach in 2000 through the creation of a German chapter in Berlin, in 2007 AfricAvenir in Windhoek, Namibia and in 2012 in Cotonou/Calavi, Benin. The Austrian chapter in Vienna is in the process of being institutionalised, as are initiatives in Senegal, France, the USA, Canada and Brasil.
The Founder: Prince Kum'a Ndumbe III
The initiative to create AfricAvenir as an independent African cultural centre came from Prince and Prof. Kum'a Ndumbe III in the early 1980s. Prince Kum'a Ndumbe III is a highly esteemed and engaged panafricanist academic, a prolific writer and the legitimate successor to the throne of Lock Priso (Kum'a Mbape), an important traditional leader of the Duala people. Much of his life has been devoted to the uplifting and rehabilitation of Africa and African culture and history.
AfricAvenir's History
The seemingly successful story of AfricAvenir's expansion from Cameroon into the world hides the many difficulties the organisation has encountered in its 30 years of existence. A pan-africanist NGO systematically and tirelessly working for the liberation of Africa and its people from the (neo)colonialism system, advocating African solutions and endogenous development, AfricAvenir had to face all imaginable acts of sabotage, intimidation, exclusion from funding etc. And yet, to say it with Thomas Sankara: "You cannot kill ideas". And so AfricAvenir is alive and kicking, expanding its reach, its networks and its efficiency and inspiring more and more people around the globe.
back to top